Oklahoma
East Hawley Field, Oklahoma; General Atlantic Resources
1993
International Reservoir Technologies was contracted by General Atlantic Resources to conduct a reservoir engineering study of the East Hawley Field, Misener Sand, located in Grant County, Oklahoma.  The objectives for the forty-one (41) well project was to gain an understanding of the source of water and water cut behavior, evaluate production practices to maximize recovery, evaluate East Hawley Field as a water-flood candidate and recommend a water-flood pattern if a water-flood proved appropriate.  During the coarse of the study, log and core data were used to build a geologic model of the field.  The geologic model, combined with available pressure data, hydraulic fracture treatment records and production data, were sufficient to meet the objectives of the study. 
Contact our office 

for additional information. 
303-279-0877
---
SW Canyon City, Oklahoma; UMC Petr. Corp.
1997-1998 - UMC is now Ocean Energy Inc.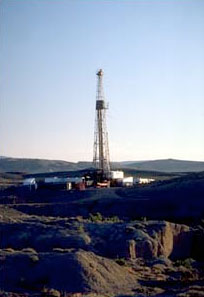 International Reservoir Technologies performed a reservoir simulation study on this Lower Red Fork tight gas sand in Caddo and Canadian Counties, Oklahoma.  The goal of the study was to identify high pressure bypassed areas of the reservoir for spotting potential infill locations.